The third SCIENCE CASTLE in SINGAPORE had been successfully conducted on 2nd and 3rd of November 2018 at Platform E by SIM University Management House.
This year, the theme for SCIENCE CASTLE 2018 is "Be a Leader, Broaden Your Knowledge to Design The Future"
SCIENCE CASTLE is an international conference for youth researchers and entrepreneurs. It is also a platform for Junior and Senior High School students to share their research and development projects with a focus on Science, Technology, and Engineering to solve social challenges faced in Asia and/or the world in their mission to advance science and technology for global happiness.
For the first time, SCIENCE CASTLE in SINGAPORE education program has expanded its wing to two additional countries, i.e. The Philippines and Indonesian schools on top of schools from Singapore, Malaysia, and Japan. For this time around, we've welcomed a total of 41 applications revolving on the research topics of Science, Technology, and Engineering from various schools and receiving 130 participants among these 5 countries. Only 12 teams were chosen for oral presentation.
During the first day of oral and poster presentations, students presented their research topics with passion and confidence. Showcasing their research and development project in the area of science and technology in front panel of judges, Ms. Annie Collins-Tait, Mentor-in-Residence of Platform E, Assistant Professor Dr. Chen Zhong at National Institute of Singapore, Nanyang Technological University, Assistant Professor Dr. Shigeki Sugii, Duke-NUS Medical School, Group Leader at Singapore Bioimaging Consortium, A*STAR; Co-founder of Celligenics Pte Ltd, Mr. Toh Hong Boon, Operations Director, Imagene Labs Pte Ltd.
Leave a Nest Singapore would like to congratulate all award recipients for SCIENCE CASTLE in SINGAPORE 2018!
Grand Winner Award
Research Title: Investigating The Rolling Habits of Mudskippers
School Name: Kaetsu Ariake Junior & High School
Presentators: Ayane Tanaka, Miho Tateno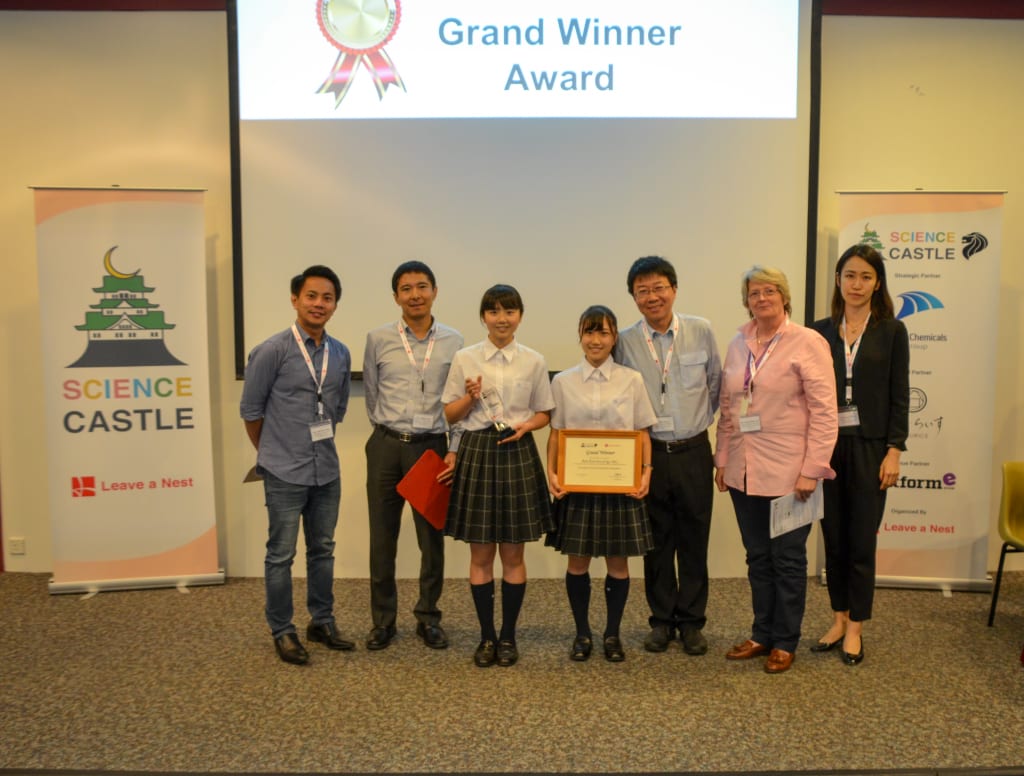 Best Poster Award
Research Title: Comparative Study of Barnyard Grass (Echinochloa crus-galli L.), Itch Grass (Rottboellia cochinchinensis Lour.), and Saramollagrass (Ischaemum rugosum Salisb.) As an Alternative Source For Paper.
School Name: Central Mindanao University Laboratory High School, The Philippines
Presenters: Ada Zuleika A. De Asis, Jason Louis A. Absuelo, Rigil Kent V. Calantoc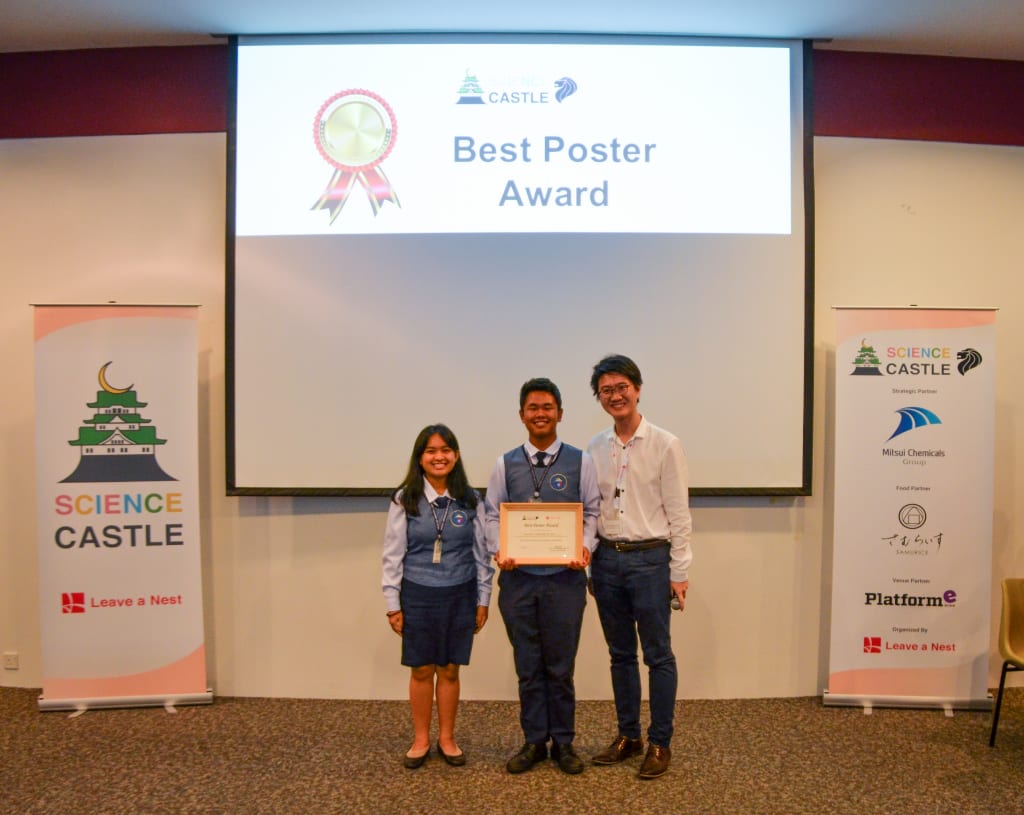 People's Choice Award
Research Title: Veto D-Hair
School Name: Sekolah Tun Fatimah, Malaysia
Presenters: Wan Nurhani Fatihah binti Wan Roslan, Nur Huda Adilah binti Md Ridzuan, Siti Nur Raudhah Abdullah, Nur Wardah binti Mohd Johan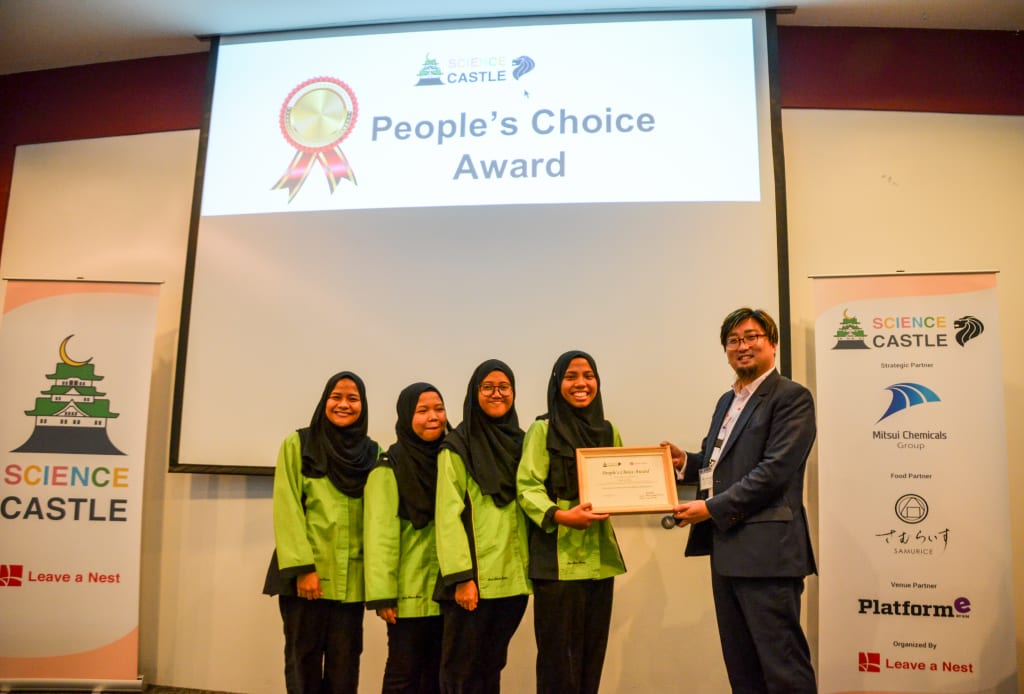 We hope these awards will motivate and encourage students to bring their research to a higher level in advancing science and technology for global happiness. Leave a Nest will keep contributing and expand youth platform where youths may meet not just like-minded peers, but also make new friends who may come from different backgrounds, and hold different beliefs and perspectives.
Upcoming SCIENCE CASTLE conferences in Southeast Asia will be on the dates as follows:
SCIENCE CASTLE in MALAYSIA 2019, 13th April 2019!